My quest for male models on the auto show circuit continues. At the 2014 Geneva Motor Show in Switzerland, I am delighted to report that I've come across more male models on the show floor than ever before. Why the change? It's all in the name of equality says Frederic Favre, press officer at Renault. For the first time, the Renault and Dacia stands have male models at their booths – in fact, it's nearly a 50-50 male/female split. "We don't want to have an image of our brand with only beautiful, less dressed women. We think it's important to have equality. It's important to show diversity," says Favre.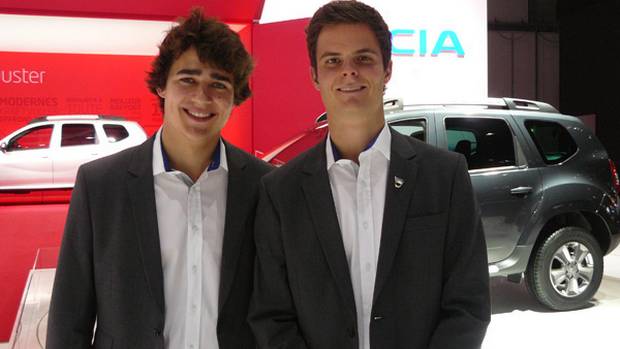 Renault
"We're fighting for equality!" says Guillaume Vorlet (left), a full-time economics student turned model at the Dacia stand, a subsidiary of French auto maker Renault. "Cars are not just for men. They're for women, too. We want equality everywhere," he says. Fellow university student Martin Spreng agrees. "They wanted change to diversify. It's a good idea. It's my first time and I hope it's not my last!" says Spreng.
NIssan
Another university student, Yll Selimaj, who studies tourism and works the Nissan booth admits stereotypes still exist. "Usually men are with the sports cars and women are with the electric or micra cars." Nissan Global Head of Marketing Roel de Vries says it's time to break down stereotypes not just in the automotive world, but beyond. "The car industry is old fashioned, but I don't think it's just the car industry. It's more universal. When you go to a restaurant with your wife or husband, the male usually gets the wine list. It's everywhere, but we need to break down the barriers," says De Vries.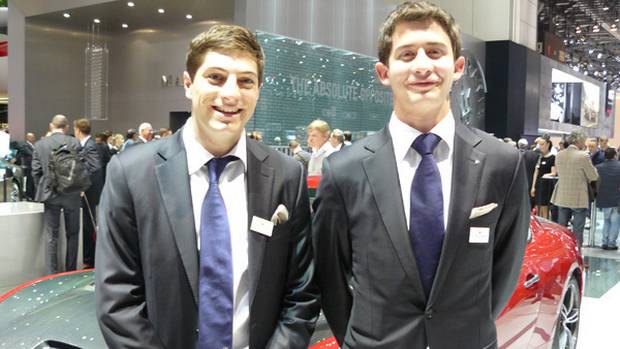 Maserati
Exotic auto makers like Maserati are also jumping on the male bandwagon. Victor and Antoine, who were told not to disclose their last names, are both students studying hotel management in university. Unlike the female models, they got a crash course on all that is Maserati. "The women complain about being stared at and photographed. The men come for them. They don't come for us, but they learn from us," says Antoine.
Skoda
Even though Skoda had dozens of guys dressed in white shirts and bright green jeans milling about their stand, when I asked for a photo I was declined and told to check with the PR team for approval. I did, but was denied. No comment. Instead, model Natalie Friebelova smiled for a photo. She's indifferent about the male models at her stand. "It's good. Why not? I don't care," she says.
Smart
For the first time, model Leon Bracharz works at the Smart stand. Like the other guys, he's a full-time university student from Germany studying sports sciences. He jumped at the chance to land a "well-paid, interesting job" at the auto show. But he's still outnumbered by the female models. "It's a 70-30 split. I think it should be 50-50 male-female models."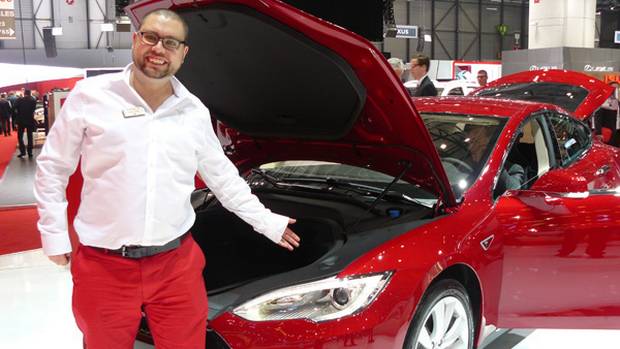 Tesla
Many guys like this university student, Adam, who doesn't want to disclose his last name, is thrilled to be back at the Tesla booth for a second year. He can't contain his excitement when posing for a photo in front of the Tesla Model S all electric car. "I was here last year and no one asked me for a picture! This is a first for me!" he boasts, grinning ear to ear.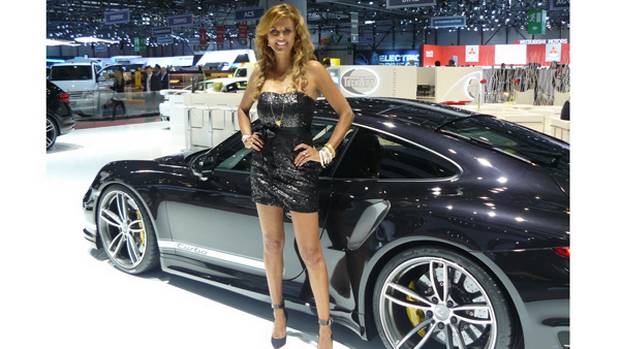 TechArt
"We need to break down stereotypes," says de Vries. "You would be equally surprised by a male model in tights shorts and a tight top at an auto show… It's not about men or women. Whether it's male or female, it's important to engage on equal footing." Clearly, there's still big room for improvement, especially at this TechArt booth.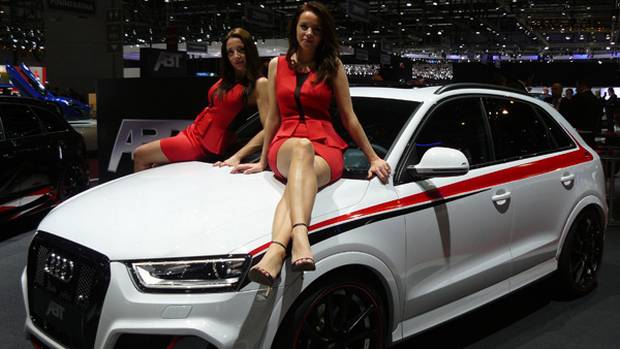 Audi
But the reality is women still outnumber the male models at the Geneva Motor Show. Many booths have pairs of female models like this dynamic duo of brunettes who sat for endless hours on the hood of this Audi ABT RS Q3 SUV while long queues of men snapped photos.
Bugatti
At least some women are elegantly dressed. At the Bugatti stand, this woman wears a conservative mustard-coloured leather dress – perhaps to downplay the real star of the show: the limited edition Veyron 16.4 Grand Sport Vitesse Rembrandt Bugatti with 1,200 hp.
Yokohama
"Why do we need a scantily clad woman next to a car? If we put gorgeous women in skimpy outfits that's very condescending... You need to have a balance of men and women. It's more in line with our [Nissan] character. We want to be open, young, and real." says de Vries. Hopefully next year Yokohama will follow in Nissan's footsteps and ditch the model wearing a tiara and short skirt.
Report Typo/Error
Follow us on Twitter: @GlobeDrive