Send2Press Press Releases & Markets News
California State University San Bernardino's School of Entrepreneurship Makes Top 10 Graduate Entrepreneurial Programs in the West
The school's online MBA program ranked first among California's public universities
SAN BERNARDINO, Calif., Feb. 15, 2023 (SEND2PRESS NEWSWIRE) — The School of Entrepreneurship at the California State University, San Bernardino (CSUSB) announced they have once again made the list of top graduate schools for entrepreneurship programs by The Princeton Review and Entrepreneur Magazine.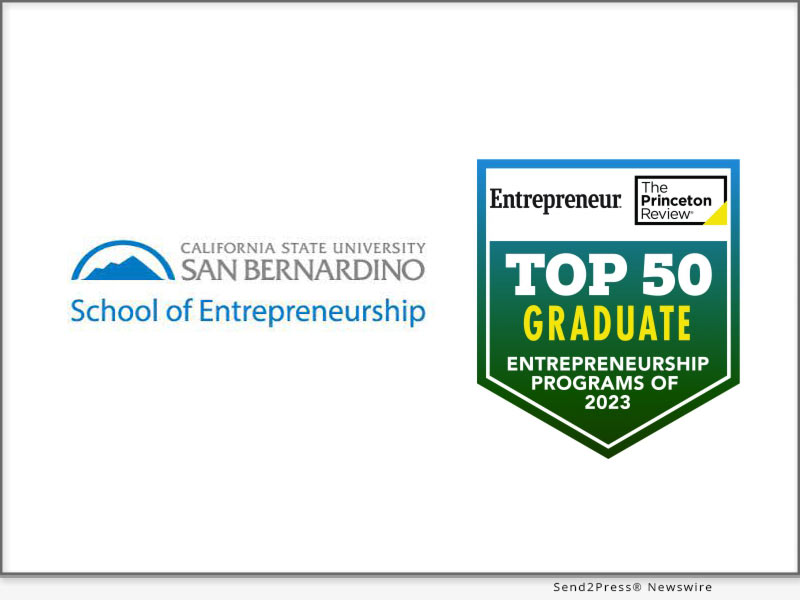 Image Caption: CSUSB's School of Entrepreneurship.
CSUSB improved on previous rankings in every category. For Best Business Schools, the school was listed among 243 colleges and universities nationwide and 62 in the West. Under the MBA rankings, CSUSB was listed among the Best On-Campus MBA programs. In the Top 50 Best Online MBA programs, CSUSB was ranked 32nd in the nation, among the top 4 in California, and first in the state in public universities.
Similarly, in the Top 50 Graduate Entrepreneurship Programs in the world, CSUSB School of Entrepreneurship was ranked 44th globally, 8th in the Top Entrepreneurship Programs in the West, among the top 4 in California, specifically for its Master of Science in Entrepreneurship and Innovation (MSEI)_and MBA graduate programs focused on Entrepreneurship.
"Entrepreneurship studies at CSUSB continue to go from strength to strength," said Mike Stull, professor of entrepreneurship. "We have created an innovative approach to graduate education in both our Master of Science in Entrepreneurship and Innovation and the MBA program that excels at preparing students to be the future entrepreneurs of our region and beyond. Additionally, we have a robust ecosystem created by our Inland Empire Center for Entrepreneurship (IECE) that supports and encourages experiential learning and startup activity."
The Princeton Review's annual ranking is based on a survey conducted of nearly 300 schools with entrepreneurship offerings, the rankings reported today took into account more than 40 data points about the school programs, faculties, students, and alumni. The 60-question survey included questions on: the percentage of faculty, students, and alumni actively and successfully involved in entrepreneurial endeavors; the number and reach of mentorship programs; scholarships and grants for entrepreneurial studies; and the level of support for school-sponsored business plan competitions.
"We recommend these schools highly and with great regard for the MBA programs they offer," said Rob Franek, The Princeton Review's Editor-in-Chief. "Since we developed our b-school rankings more than two decades ago, our goal, every year, has been to help applicants choose the MBA programs best for them. This is why we collect a broad range of data to compile rankings in multiple categories. In our opinion, no b-school is #1 in all aspects, nor is any b-school ideal for all applicants. However, every MBA program—on-campus as well as online—that made our lists for 2023 offers outstanding academics, superb experiential components, and impressive career services. As important, everyone garnered positive ratings from MBA students we surveyed who attend—or are recent grads of—the program."
For the full list of top undergraduate and graduate schools for entrepreneurship visit Princeton Review – https://www.princetonreview.com/business-school-rankings?rankings=top-west-entrepreneurship-grad.
About CSUSB's School of Entrepreneurship:
California State University San Bernardino's School of Entrepreneurship, the first and only academic school dedicated to Entrepreneurship in California, serves nearly 1,000 students each year by delivering a wide range of educational programs and experiential learning opportunities that create the next generation of innovative change makers and entrepreneurs. The School of Entrepreneurship is part of the Jack H. Brown College of Business and Public Administration.
The JHBC is fully accredited by the AACSB and NASPAA and is one of the leading business schools in Southern California. The mission of the college is as an applied business program plays a key role in developing an educated and entrepreneurial workforce that in turn enables the community to attract and keep quality jobs in the region. Providing over 17 concentrations in both undergraduate and graduate degree programs, with campuses in San Bernardino and Palm Desert, the JHBC has produced over 13,000 graduates–the majority of whom live and work in the growing and booming economy of Southern California.
For more information, visit https://entre.csusb.edu/.
RELATED LINKS:
https://www.princetonreview.com/corporate/rob-franek
NEWS SOURCE: California State University San Bernardino School of Entrepreneurship

This press release was issued on behalf of the news source (California State University San Bernardino School of Entrepreneurship), who is solely responsible for its accuracy, by Send2Press Newswire. Image, if any, was provided by the news source and not this website or the wire service. Information is believed accurate, as provided by the news source, but is not guaranteed.
To view the original story, visit: https://www.send2press.com/wire/california-state-university-san-bernardinos-school-of-entrepreneurship-makes-top-10-graduate-entrepreneurial-programs-in-the-west/
Copr. © 2023 Send2Press® Newswire, a service of NEOTROPE®, Calif., USA. -- REF: S2P STORY ID: 88654NORELBAR